The 44P-SATA 2.5" 44Pin IDE Hard Drive to SATA Adapter allows you to use older, cheaper legacy drives with newer style equipment. It accepts any 2.5″ Laptop-style 44pin IDE drive and converts it to standard 22-pin SATA interface. NO additional adapters or cables required if you already have SATA power.
The 44Pin IDE (PATA) Hard Drive to SATA converter can be used in applications such as small form factor computers, point of sale equipment and industrial computers.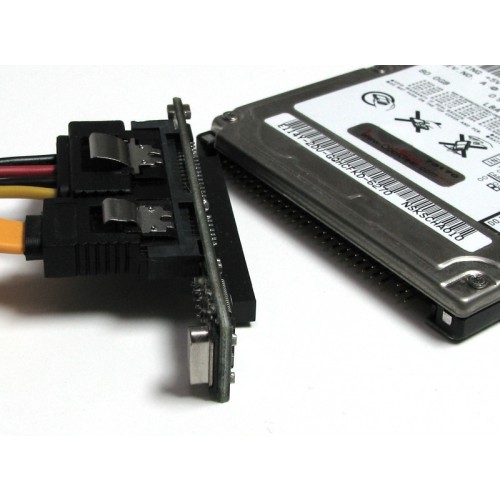 Features & Specifications:
Supports ATA 66/100/133 Mbps
Dimensions: 69 x 14 x 17.5 mm (L x W xH) (Approximate)
Utilizes JMicron JM20330 chip.
OS Support: Windows 98, Me, XP, 2000, 2003, CE, Vista, Windows 7, and Windows 8,
Linux and Mac OS 10.X
| | |
| --- | --- |
| SKU | ITS-P |
| UPC | 729440626785 |
| Color | Green |
| Manufacturer | Coolgear |
| OS Support | No |
Customer Reviews
No Reviews yet. Why don't you leave one? Use the link above labeled "Be the first to review this product" to be taken to the right page.