4 Gigabit Ethernet Ports on one USB 3.1 Gen1 Adapter
The CG-4P31G1EA USB3.1 Gen 1 to 4 port Gigabit Ethernet Adapter provides 4 Gigabit Ethernet ports to your Notebook, Desktop, Server and Thin-Client computers. Each of the Gigabit Ethernet ports can be individually turned on or off via the built-in DIP Switches. Simply connect it to an available USB 3.1 port and you're ready for gigabit network speeds.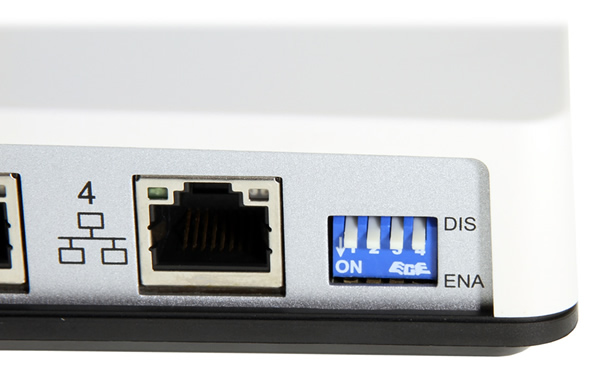 With built-in the Windows drivers on the adapter's hardware, the installation is very simple, just plug and go! The system will install the Windows drivers automatically.
The Universal Serial Bus (USB) 3.1 Gen 1 Super-Speed specification works up to 5Gbps as It provides lightning-fast gigabit speeds. Upgrade your network's bandwidth to accommodate large file transfers, data backups, or access your network storage. The CG-4P31G1EA provides an ideal solution to expand your Ethernet ports immediately and save your investment.
USB 3.1 Gen1 Gigabit Ethernet Adapter Features
Compliant with USB Specification 3.1 Gen 1
Supports Wall Mounting Kit and Optional DIN RAIL Mounting Kit for Industrial Critical Applications
Adds 4 RJ45 Gigabit Ethernet Ports (10/100/1000M)
An Upstream Type-C USB3.1 Gen 1(5 Gbps) Port, Backward Compatible with USB2.0 and USB1.1
Easy Installation for Windows, Simply Plug and Go
Supports all USB Power Saving Modes
A DIP Switch to Instantly Enable/Disable Each Port
Supports IEEE 802.3, 802.3u, and 802.3ab, 802.1Q
Supports IEEE 802.3az-2010 (Energy Efficient Ethernet)
Supports Jumbo Frames up to 9K Bytes
Supports Microsoft AOAC (Always On Always Connected)
LEDs for Ethernet Status and Data Transferring Speed
Supports USB-C Screw-Lock Cable Mechanism
Supports Windows, Mac OS and Linux
Item Weight: 5.5 oz
4-Port Gigabit Ethernet Adapter Specifications
For Systems with USB3.1 Gen 1 (USB3.0), USB2.0, or USB1.1 Ports
USB3.1 Gen 1 port
Compliant with USB Specifications 3.1 Gen 1
Plug and Play and Hot-swappable, no additional hardware installation required
Backward compatible with USB2.0 and 1.1 Standards
Supports USB Screw-Lock Features
Supports USB Power Saving Features
Gigabit Ethernet Port
IEEE 802.3, 802.3u, and 802.3ab, 802.1Q Compatible
Supports IEEE 802.3az-2010 (Energy Efficient Ethernet)
Provides LINK/ACT and SPEED LED Indicators
Provides a DIP Switch to Enable/Disable Each Port
Supports NDIS5, NDIS6 Checksum Offload Engine (IPv4, IPv6, TCP, UDP)
Supports 10/100/1000M Ethernet Speeds
Supports suspend mode and remote wake-up
Supports crossover detection and auto- correction
Supports Jumbo frame up to 9K Bytes
Operating Systems
Microsoft Windows 10, 8.x (x86, x64), 7 (x86, x64), Vista XP
Windows Embedded Compact 7 (CE 7.0), CE 6.0 and CE 5.0
Linux
Mac OS X
I/O Hardware
Supports 1 Upstream USB3.1 Type-C connector with Screw Lock Mechanism.
Supports 4 Gigabit RJ45 connectors with Speed and Link/Act LED Indicators.
Environmental
Operating Temp.: 0 to 70°C (32 to 131°F)
Storage Temp: -20 to 85°C (-4 to 185°F)
Operating Humidity: 5 to 95% RH
Form Factor
5.95"(L)x2.44"(W)x1.33"(H) (151.1 x 62.0 x 34.0 mm)
Package Contents
4 port Gigabit Ethernet Adapter
1 Clip-on Mounting Plate
1 3ft. USB Type-C to A USB 3.1 cable
4 foot cushions
Paper Installation Guide
| | |
| --- | --- |
| SKU | CG-4P31G1EA |
| UPC | 045079160446 |
| Color | Beige |
| Manufacturer | Coolgear |
| USB Speeds (Mbps) | Super Speed (5000) |
| Compatibility | , , , , , , Windows 10 |
| Connectors | RJ45, USB Type-C |
| RoHS | Yes |
| Material | Plastic |
| External Interface | USB 3.1 Gen1 |
| Warranty | One Year |
Customer Reviews
No Reviews yet. Why don't you leave one? Use the link above labeled "Be the first to review this product" to be taken to the right page.