Type-C Power Bank with High Capacity Multi-port USB
Gearmo's amazing new Type-C Power Bank is a high capacity, fast charging power house. It is for Type-C and legacy Type-A device charging connections. It incorporates 4 USB-A ports, 1+2 port sharing 5V/3A, and 3+4 ports sharing 5V/3A so the Power Bank can simultaneously charge 4 tablets.
The power bank itself charges in two ways, via a USB Micro-B or USB-C connections from your laptop. USB Micro-B will charge on bank at a time until all 4 are full, The USB-C charging port is much faster filling all banks at once. The Gearmo Power Bank gives you an opportunity to charge a cell phone or tablet up to 8 times faster thank a normal battery pack!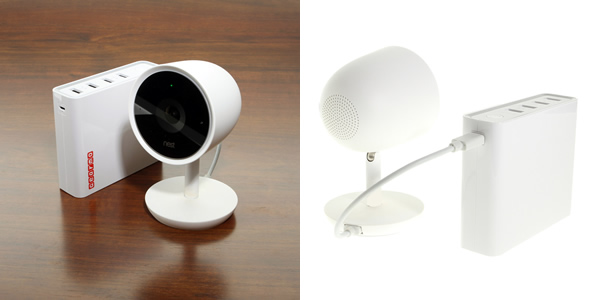 Charging a PD Camera from the USB-C Port, no External Power Used.
Applications: Use this high capacity USB charging bank as a spare battery for your Macbook or tablet on the road or at home. Use in a classroom or office for a central charging power bank.
20000mAh Type-C Portable Power Bank Features
Stand alone power bank (no need to keep connected)
Supports 4 5V/3A USB Type-A charging connections
Supports 1 USB Type-C dual function PD/charging port (charges the power bank from the computer and charges Type-C devices when power bank is full)
Charges up to 8 times faster than normal charging
Charges MacBooks and other portable devices
Blue LED indicators for power status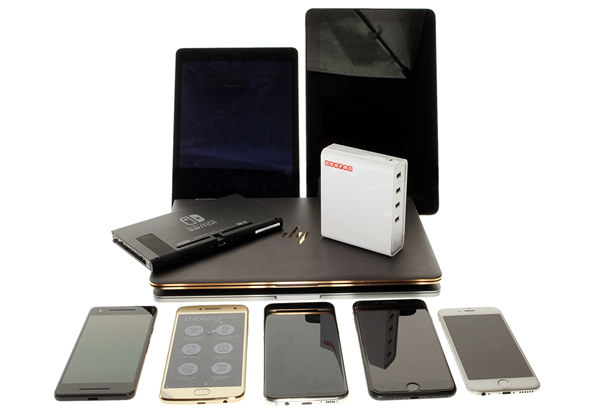 Can Charge These USB Type-C or USB-A Legacy Devices and More...

Specifications
Type-C Input: 5V/3A, 9V/3A, 12V/3A, 14.5V/2.4, 20V/1.8A
Type-C Output: 5V/3A, 9V/3A, 12V/3A, 14.5V/2.4, 20V/2A
Output: 5V/3A each USB Type-A port
Battery Capacity: 20000mAh / 3.7V 74Wh
Rated Capacity: 14000mAh / 5V(TYP 1A)
Dimensions: 108 x 90 x 32 mm
Weight: 420 +/- 10G (0.931 lbs)
| | |
| --- | --- |
| SKU | GM-20KPDPB |
| UPC | 045079159280 |
| Color | White |
| Manufacturer | GearMo |
| Tech Notes | Charger Only |
| Connectors | USB A Female, USB Type-C |
| RoHS | Yes |
| Material | Plastic |
| Warranty | One Year |
Customer Reviews
No Reviews yet. Why don't you leave one? Use the link above labeled "Be the first to review this product" to be taken to the right page.