Notice: This product is EOL as of Jan 2021. There is no alternate or repalcement.
The SATA Hard Drive Adapter is a Native SATA Drive to IDE 40-pin Adapter for most enclosures needing a SATA to IDE Converter. The SATA Hard Drive Adapter converts a SATA Drive to IDE, a perfect solution for converting SATA or SATA II devices to IDE ATA 40-Pin UDMA-133/100 interfaces.
JMicron JM20330 chip-set and supports 3.5″ IDE hard drives and 5.25″ optical drives. It's compliant with IDE specification and supports up to UDMA/133 drives!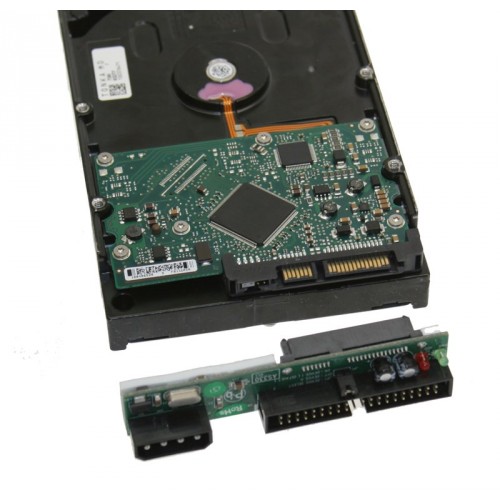 Chip Overview:
JM20330 is a single chip solution for serial and parallel ATA translation. It includes the Serial ATA PHY, Link, Transport, and Parallel ATA (application layer) controller. The Serial ATA physical, link, and transport layers are compliant to Serial ATA 1.0 JM20330 supports a 1.5GHz data rate, and scalable to 3.0 GHz data rate by directly doubling the internal clock source.
The application layer supports both the ATA register command set and PACKET command set, which could drive both Hard Disk Drive and ATAPI Optical Storage such as CR-ROM, CD-RW, DVD-ROM, DVD-RW, etc. The Serial ATA and the Parallel ATA application layer support both host and device operation and can be configured through a single pin.
Additional Features:
This Adapter tested to work with Western Digital, Seagate, Hitachi, Maxtor, Toshiba, Fujitsu and Samsung Drives ranging in Capacity from 80GB up to 2,500GB (2.5TB).
Serial ATA 1.0 Specification compliant
Automatic Serial ATA 3.0/1.5 Gbps speed negotiation
ATA/ATAPI PIO mode 0 to 4
ATA/ATAPI Ultra DMA of transfer rate 16.7, 25, 33, 48, 66, 100, 133, and 150MB/s.
ATA/ATAPI LBA48 addressing mode associated with 2-byte sector count
Support Serial ATA hot-plug
Ultra low power consumption
Work for both AC and DC couple between the transmitter and the receiver
Provide specified OOB signal detection and transmission
Support Spread Spectrum Clocking to reduce EMI
Support 20MHz, 25MHz, 30MHz or 40MHz Reference Clock
Support Partial/Slumber power management
Provide adjustable TX signal amplitude and pre-emphasis level
Master IDE Device support
OS Support:
Windows 98, Me, XP, 2000, 2003, CE, Vista, Windows 7, and Windows 8
Linux and Mac OS 10.X
| | |
| --- | --- |
| SKU | IDE-SATA04 |
| UPC | 729440625221 |
| Color | Green |
| Manufacturer | Coolgear |
Customer Reviews
No Reviews yet. Why don't you leave one? Use the link above labeled "Be the first to review this product" to be taken to the right page.