USB C PD 50W Notebook Power Adapter Charger w/HDMI Dongle
Power your USB-C notebook with this new Gearmo 50W Notebook power adapter. The USB-C PD adapter is a multi-function device that supports powering notebooks, 2 port USB-A 3.1 data hub, USB-C battery charger, and HDMI support. Replace your older USB-C charging block with this smaller, versatile USB-C PD notebook adapter!
USB-C PD 50W Notebook Adapter Charger
The Gearmo USB-C PD Notebook Power Adapter is meant to replace your existing bulky power block that your notebook computer ships with. It works with any notebook that uses a type-C port connection for its power delivery method.
The USB-C PD notebook adapter is a multi functional adapter. It can be used as a USB 3.1 Gen1 two port hub through its USB-A ports or a USB 3.1 Gen1 Type-C port, both with up to 5Gbps data transmission. The adapter also allows for an HDMI connection through its HDMI A Type receptacle. It is supplied power from a 100V~240V AC wall outlet
There are several ways in which to use the USB-C 50W Notebook power adapter, see below:
Using as a UNIVERSAL AC USB TYPE C CHARGER or a UNIVERSAL AC NOTEBOOK TYPE C ADAPTER

Work as a BUS POWERED USB3.1 GEN1 Hub + HDMI port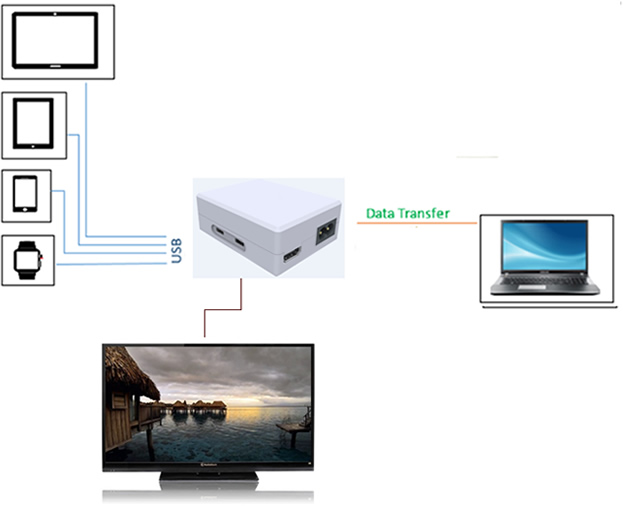 Charge laptop and portable devices in the same time, as well as data transferring. Meanwhile, user can also play movies stored in external HDD projecting on LCD TV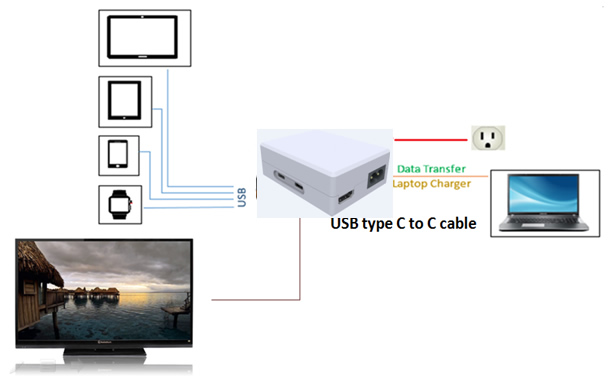 50W USB-C Notebook Power Adapter Features
100/240VAC Universal AC input supported
(up-stream) USB3.1 Gen1, type C, PD - 5 voltage levels supported (5V/9V/12V/15V/20V) /3A
(down-stream) USB3.1 Gen1, type A x 2, USB 3.1 Gen1 type C x 1, 5V/3A
Supports USB Battery Charging Specification 1.2. USB Charging Modes - SDP, CDP, DCP.
Supports Apple, Samsung Galaxy fast charging
HDMI A type receptacle
Supports up to 192kHz audio frame rate and up to 24-bit audio sample size
Specifications
50W rating NB adapter with
100/240VAC Universal AC input supported
(up-stream) USB 3.1 Gen1, type C, PD - 5 output voltage levels supported
(down-stream) USB3.1 Gen1, type A x 2, USB 3.1 Gen1 type C x 1, with individual output 5V/1.5A, and USB IF BC1.2 fast charging supported.
HDMI type A receptacle
AC/DC Power board is integrated inside the product, no external AC Adapter
80mm x 61mm x 26mm external dimension
Item Weight: 7.7 oz (.48 lbs)
Protection
Over Current Protection
Over Voltage Protection
Over Temperature Protection
Over Power Protection
HDMI 1.4 Supported / HDMI A type receptacle
Supports up to 192kHz audio frame rate and up to 24-bit audio sample size
Cable Info
Fixed 5ft cable length
Standard black UL
Standard black EU type
Package Contents
50W Portable Power Dock
1.5m AC Power Cord
45cm C - C Cable
More Information

| | |
| --- | --- |
| SKU | GM-PDU31CNA |
| UPC | 045079159570 |
| Color | Beige |
| Connector(s) | HDMI, USB A Female, USB Type-C |
| Warranty | One Year |
| Tech Notes | This is a USB 3.1 Gen1 notebook power adapter with multi function use for data and HDMI |
| Material | Plastic |
| External Interface | USB 3.1 Gen1 |
| USB Speeds (Mbps) | Super Speed (5000) |